Rent-to-own homes can be an option if you want to have a house now and don't have enough cash for a down payment and/or your credit score isn't high enough to be approved for a mortgage at this time.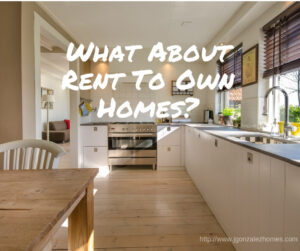 There are a lot of scams related to rent-to-own homes,  so be careful.
If it is a legitimate opportunity, then a credit check may be requested to find out what's going on. They'll want to know if you'll qualify within the seller's time frame. This is especially the case if your credit needs repair.
Also, an upfront down payment or higher rent will have to be paid (which a portion is to be saved and applied when it's time to buy) .
Read: No or Low Down Payment Assistance Programs
The home you live in as well as the surrounding community reflect the lifestyle you want to live. Join me on Facebook where you'll find neighborhood information, tips for owning and maintaining a home, buying and selling, local events and real estate information.